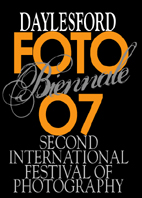 DFB'07 SEMINAR PROGRAM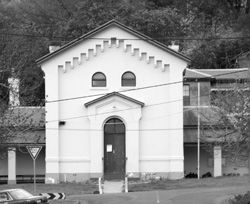 The Court House Daylesford - venue for most DFB'07 seminars





The Daylesford Foto Biennale Second International Festival of Photography will once again present a stellar lineup of some of our finest photographers in an exciting seminar program designed both to inspire and inform.

Expanding on the Daylesford theme of photograpic diversity, the seminar sessions in 2007 will take their audiences on many varied photographic journeys - from pinhole to publishing, from bytes to boat people, from landscapes to the linked ring.

Saturday June 2nd, 1pm - 4pm at the Daylesford Neighbourhood Centre

THE EYE OF THE BEHOLDER

with Matthew Sleeth, Samantha Everton & Tobias Titz Matthew Sleeths 'Mixed Tape' and Tobias Titz 'Farewell 665' exhibitions both feature in the Main Program at DFB'07.

Saturday June 9th, 1pm - 4pm at the Daylesford Neighbourhood Centre

SO YOU WANNA GET PUBLISHED?

with Andrew Chapman, Alison Pouliot & Steve + Melissa Proposch. Andrew Chapman with his book 'The Shearers', Alison Pouliots coffee table book on the Grampians 'Gariwerd' and Steve and Melissa Proposch's Trouble magazine sideline publication 'The Starving Artist' will provide case studies of the often rocky road to getting your images onto the printed page.
NEW SEMINAR ADDED
Saturday June 9th 7.30pm to 9pm at the Daylesford Neighbourhood Centre

ARGENTINE PHOTOGRAPHY FROM THE BEGINNING TO NOW

with international guest Eduardo Gil, who's exhibition LANDSCAPES appears as part of the DFB07 Main Program at the Union Bank Arts Centre Clunes


Sunday June 10th, 1pm to 4pm at the Daylesford Neighbourhood Centre.

SEEING THE LIGHT - CLASSICAL VIEWPOINTS

with Anthony Browell, Lloyd Godman & Richard White
Pinhole master Anthony Browell, landscape primo Richard White and expat Kiwi art photographer and educator Lloyd Godman, who takes non camera based image making techniques to another level, talk about the things that make them click.
Saturday June16th, 1pm - 4pm at the Daylesford Neighbourhood Centre.

TRUTH AND CONSEQUENCE

with Chris Beck, David Callow & Jesse Marlowe Photo documentary photography up close and personal with three highly respected practitioners of the genre. Chris Beck, David Callow and Jesse Marlow. Join them as they recount the stories behind both their pictures and their subjects.



THIS WEEKEND'S SEMINARS
Saturday June 23rd, 1pm - 4pm at the Daylesford Neighbourhood Centre.

BYTE ON THIS AGAIN

with Andrew Chapman, Peter Casamento & David Simmonds A hugely popular seminar at DFB'05, 3 new speakers expand on the topic of pixels and pictures and the minor miracles that can be achieved with zeros and ones.
Sunday June 24th, 1pm - 4pm at Jubilee Hall Clunes

DIVERSE JOURNEYS

with Murray McKeich, Viv Mehes and Holger Mohaupt. Holger Mohaupt from Scotland, Viv Mehes and Murray McKeich have each taken their own particular and personal photographic journey. This seminar is the telling of these travels, past present and future.




Saturday June 30th, 1pm - 4pm at Jubilee Hall Clunes

VAPS ANNUAL MUSTER SEMINAR
with Neil Newitt, Ron Cork & Jeff Moorfoot

A mixed bag, with information on preparing digital files, creating audio visuals,exploring photo journalism and pondering the question - Where do ideas come from?





Tickets for all seminars $25 [dfb members, subscribers and concession $20] Or purchase a silver seminar pass for $120 [$100] admits holder to all DFB seminars.

No reserved seating.

Pre purchase tickets at the DFB'07 info centre at the Daylesford Town Hall from June 2nd or on the door at seminars.