this is a one day workshop

'Large and Ultra large Format Cameras'
Date: Tues 5th  June
Venue: 700 James Lane Trentham East
Times: Tues 10.00 am to 4.00 pm

The workshop is designed to be a 'hands-on' experience with large format cameras with an introduction to contact printing. The visual and technical aspects of large format photography will be addressed so your creative vision is encouraged and your photographic horizons enlarged. This workshop will help you create better photographs, experience and explore the contemplative joy of making beautiful images. David Roberts uses large and ultra large format view cameras including a 20 x24 inch camera. His prints are traditional contact prints providing unparalleled detail and tonality with a sense of presence not achievable by lesser formats.

Class Size: Maximum 6  Cancel workshop if  3 or less

Cost: $175.00 [subscribers sponsors & concession  $150.00]
Lunch, morning and afternoon teas provided



Dave Roberts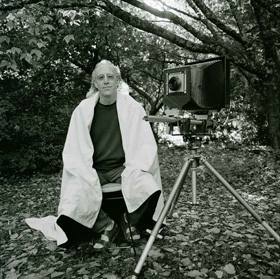 David Roberts grew up in Iowa, USA.  For many years he lived with a Native American Indian community in a remote region of northern Saskatchewan, Canada, learning their language and ways of life.  He came to Australia in 2000 and is exploring this beautiful country through the lens of his cameras.  His photographic interests include landscape, architecture and portraiture. 

The cameras he uses are older view cameras that use negatives measuring 8x20, 11x14, 8x10 and 5x7 inches. 
David's clients include: VicUrban, the city of Melbourne, the Shire of Yarra Ranges, Allen and Unwin, St. Patrick's Cathedral in Melbourne, St. Mary's Cathedral in Sydney and others.  Portraits include: Sir Rupert Hamer, Cardinal George Pell,  Max Gillies, Julian Burnside QC, , Frank Woodley, Meredi Eastman, and Alfred Gregory.