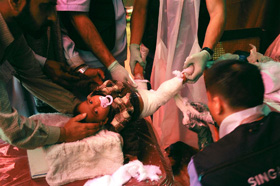 © mathias heng









Born 1966, Mathias Heng grew up in Singapore and graduated from Boys Town Vocational Institute, where he studied Graphics reproduction. Images from Humanity issues had a powerful effect on him, for that reason, his decision to become a photojournalist. He now resides in Australia, spending much of his time on assignments. In his travels to places of war, disaster, poverty and human struggle, Mathias has photographed several conflicts and their effects on the civilian population, producing a body of emotionally moving documentary work that captures key moments and turning points in history.

Since then, Heng devoted himself to documenting war, disaster, poverty, social issues and humanity.

 Having covered many conflicts and the effects on the civilian population, Mathias Hengs work appears in The Washington Post, The Guardian, The Australian, The Age and newspapers throughout Asia and Europe. His images appear in books and magazines worldwide, as well as non-government organization magazines such as Oxfam USA and Australia, CARE International, Caritas Australia, Australian Volunteers International, AusAID and International Labor Organization (UN).

 He has worked on extensive photographic essay in Australia, Afghanistan, Burma, Cambodia, China, Thailand, India, Indonesia, Bangladesh, Malaysia, Nepal, Pakistan, South Africa, Mozambique, East Timor, Papua New Guinea, Kiribati, Iraq and Indonesia.

 In 2000, Mathias was featured alongside other internationally renowned photojournalist such as Sebastiao Salgado in Leicas product brochure, The Program.

 In 2002, Mathias published his first book, sponsored by Leica, Viva Timor Loro S'ae, Long Live East Timor 1999 - 2002.

 In spite of his exposure to many atrocities, Heng has never lost his passion and commitment to humanity, or his ability to capture images which speak to people around the globe.