speaking for country
SPEAKING FOR COUNTRY - Indigenous women telling stories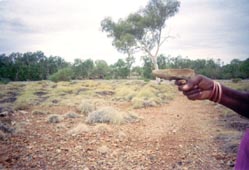 Project co-coordinator Mandy Jean and photographer Mia Mala McDonald traveled to three small coastal communities of North-Western Australia, armed with forty disposable cameras. They Held ten day photographic workshop for women of the Thalanyji, Ngarluma, Yindjibarndi and Kurrama Aboriginal language groups.

The mission: to use photography as a medium for indigenous women to tell their own stories.

The culmination of this expedition will be an audio and visual exhibition of twenty indigenous womens mainly self portraits which show scenes of the vast empty spaces of the Outback, an extraordinary landscape that is named, inhabited and storied by local women, Indigenous Australians.