this is a one day workshop

'The Bromoil  Workshop'
Date: Sun 10th   June
Venue: 700 James Lane Trentham East
Times: Sun 10.00 am to 4.00 pm

An Alternative photographic process where the silver particles on a black and white print are replaced by oil based printing inks. The print is treated chemically before oily inks are applied by brushes, re-creating the original image. The use of different brush actions allows the artist creative control over the image reproduced.

Level of skill required: Ability to make a photographic image (basic darkroom skills) Patience and persistence highly desirable.
Class Size: Maximum 6    Cancel workshop if 3 or less

Cost: $175.00 [subscribers sponsors & concession  $150.00]
Lunch, morning and afternoon teas provided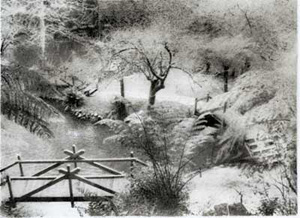 © chris lim
 




Chris Lim is an art photographer who now specializes in the Bromoil process, using it as a means of expression since completing her photographic studies in 1997.  She graduated from Photography Studies College with a Diploma of Illustrative Photography. She has had 2 solo exhibitions and several group shows all in Melbourne, and has shown in small cafes, Event centres and galleries like 101 Collins Street, Linden Gallery, Photographers Gallery, The Centre for Contemporary Photography, 80 Gold Street and in the United States of America

Awards
1999  Winner of Weerama Photographic competition, open category
1998  Polaroid award from Photography Studies College and Polaroid
Australia for excellence in use of the Polaroid medium
1996  Silver Award and Certificate of Merit from the Australian Institute of Photographers  Experimental section
1993  Winner of the Williamstown Summer Festival Photographic Competition

Member of the Institute of Photographic Techniques and International Society of Bromoilists

Chris runs workshops on the Bromoil process and has been invited to speak at conferences, the two most recent being at the Institute of Photographic Technique conference at RMIT, Melbourne and at the Daylesford Foto Biennale 05.